registration is open! Join us for classes in the performing arts!
important dates: January
early childhood: Movement and music for ages 3-7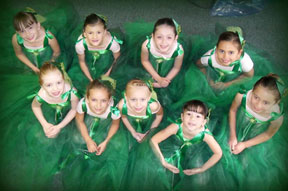 Young Dancers Classes Include:
Preschool Storybook Ballet (3-4 years)
Creative Tap, Jazz, & Acting (3-4 years)
Pre-Ballet A (5-7 years)
Pre-Ballet B (5-7 years)
Pre-Tap, Jazz, & Acting (5-7 years)
Right: Pre-Ballet B dancers as "Emerald City Ladies" in Arts Ballet Story Theater's 2012 Production of "The Wonderful Wizard of Oz Children's Ballet"
classical ballet division: level-based ballet & modern training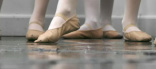 The Classical Ballet Division begins with students (ages 7+) who are ready for serious ballet training. The level-based ballet syllabus uses primarily Vagonova technique and incorporates elements from the dance theory and techniques of master teacher Finis Jhung, the Royal Academy of Dance (R.A.D.), and a continuance of the our teaching philosophy. Students practice classical ballet technique, learn to use their body correctly through awareness of kinetics, coordination, anatomy, and proper body alignment, and strive to become well-trained, artistic, musical, and adaptable dancers. Dancer's are always encouraged to find joy and expression in their art and share that gift with others.
Contemporary, modern, and lyrical technique classes, skills classes, pre-pointe/pointe, dance conditioning, and choreography are extensions to the ballet program for these dedicated dancers.